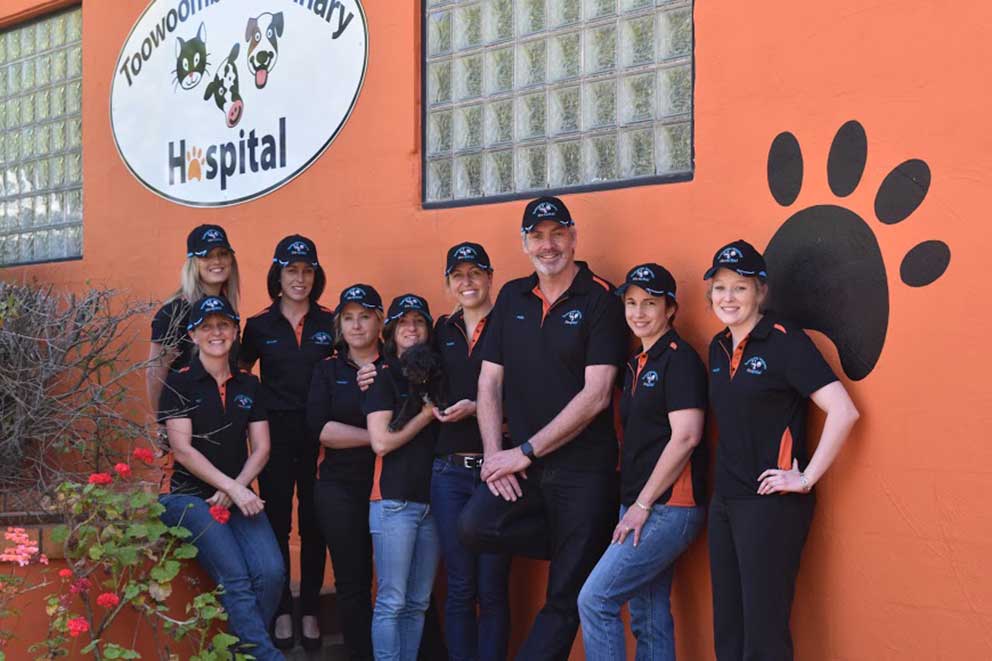 MEET THE TEAM
Get to know the team of professionals who'll help you to keep your pets the picture of health.
SERVICES
From check-ups to preventative care and treatment, our veterinary hospital is equipped to provide the best care.
WHY CHOOSE US?
For over 65 years we've shown ourselves to be Toowoomba's best choice for quality pet care.
WHAT OUR HAPPY CLIENTS SAY!
A huge thanks to Dr Paul and staff who treated Cato after he was hit by a car. The little man is doing so well now he's back at home following his surgery. TVH is a great surgery with fantastic staff who were on call and available at a crazy time of the morning. I could not recommend the TVH team more highly.
Mikkaela
A huge, heartfelt thank you to Dr Paul and the team at TVH for the awesome care of my boy, Orlock. He has now recovered from his dental surgery and just finished his warm milk and roast chicken for dinner and is now resting on my bed. He is however constantly glaring at his bandage… I'm not sure if it's because it is a bandage – or because it is a hot pink bandage!
Margaret
Our darling Ruby Rose would not have lived to see her puppies grow up, had it not been for the wonderful Vets and staff at Toowoomba Vet Hospital. We are forever grateful to them. All our animals are made to feel special every time we visit!
Donna
Toowoomba Vet Hospital has been down to assist our cows on several occasions and I just wanted to thank the vets again. I have the highest respect for Vets and am frustrated that our society rewards human doctors so much more. You have come at any time, in any condition, without fuss and treated our animals (and us!) humanely and professionally. We feel so lucky to have good vets like you nearby.
Linda & Mark
My dogs love coming to TVH because they always receive the care and attention they deserve. The vets always make the time to listen to what you say and never rush you out the door. A vet that cares is the number one priority for me as a client. Plus my dogs wag their tail and get excited when they know they are going to TVH and have never run for the nearest exit!
Tess
I have been taking my 6 month old husky puppy Kato and my 4 ½ year old cat Mia, to Toowoomba Veterinary Hospital and I can't recommend them highly enough. A visit to TVH is like a visit to a loving family. I always feel at ease when I take my babies to see the team. They go above and beyond in their advice and care and are always willing with information on the best way to care for your animals. Puppy Pre School with Tiffany was just amazing. The advice and guidance she gave for our puppy Kato on worming, feeding, de-sexing, behaviour, training and much more really gave us all the information we needed to take great care of our little puppy. The socialisation at Puppy Pre School was fantastic. Kato loved playing with all the other puppies, big and small, and it was great for him to develop social and play skills in a safe environment. Now when we take him to TVH he bounds through the door and can't wait to see everyone. Thank you to all of the team at Toowoomba Veterinary Hospital for taking such amazing care of my animals and loving them just as much as I do.
Christal
The TVH staff are characterised by the fact that they really do care about each of their clients (the two legged as well as the four legged ones!) and are prepared to give each client all the time they need. I never feel as though I am being rushed through in order to get to the next patient. For me, they will always be tops! All of my German Shepherd Dogs over the past 20 years have loved coming to TVH.
Jeannie
My cats love visiting Toowoomba Vet Hospital, as much as a cat can love going to the vet! The staff at TVH really care about the animals. My cat Bambi was bitten by a stray cat and developed an infection on his face. By the time we realised what had happened he had a temperature of 45.5 degrees and the Vets took amazing care of him. I wouldn't take my babies anywhere else.
Brooke
I would like to take this opportunity to thank all the staff at TVH for the outstanding treatment and care you have given Jack when he broke his leg, Louis & Paul have been outstanding and they kept me informed every step of the way. Just saying thank you doesn't seem to be enough but is all I can say. It is very comforting to know that I have chosen a great vet for Jack and our family and I would never think of going anywhere else.
Maureen
Toowoomba Veterinary Hospital is a long established part of the community. Established in 1947, today we offer the latest in facilities including a state of the art surgery, radiology and consulting rooms. Run by a dedicated and caring team the Hospital is open Monday to Saturday.
OPENING HOURS
MON – FRI
7:00am – 7:00pm
SATURDAY
8:00am – 5:00pm
SUNDAY
Closed
In an emergency please phone immediately for instructions.
GET IN TOUCH
191 Hume Street (Cnr Gore St), Toowoomba QLD